Schweinsteiger WRITES GOODBYE LETTER TO PODOLSKI
Lukas Podolski received an emotional goodbye letter from his teammate, Bastian Schweinsteiger before his final international duty on March 22nd, 2017.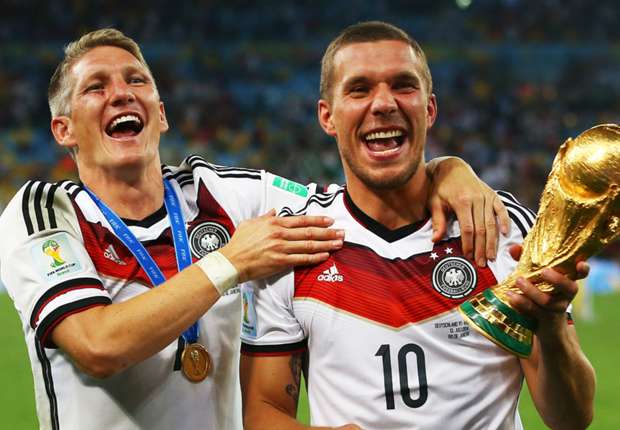 The 31-year old made his last appearance for the defending world champions in their 1-0 International Friendly victory over England as the former Arsenal forward found the net at the 69th minute through Andre Schurrle's assist which sank Gareth Southgate's men at Signal Iduna Park.
Addressing the letter to Lukas, Schweinsteiger through the German newspaper Welt Am Sonntag, reached out to his friend:
"'We have been friends for many years, such that rarely happens in life' – that was the first line of your farewell letter to me then when I was retiring from the national team back then in the Welt am Sonntag, and funny enough I don't know how better to start mine to you right now."
Bastian in his letter confessed his invaluable gratitude towards his friend and teammate, Poldoski especially during his retirement.
He thanked him for being there through the good and the bad moments of his career and wished him absolve good luck in his future career.
The World Cup winner, before the last match kickoff made his speech of thanks to the fans and everyone through his 13 years in international duty on and off the pitch, he acknowledged the great part they took in his career.
The former Arsenal forward received an awesome standing ovation from the crowd as he signed out of the pitch in the 84th minute of the match after his trilling goal which led his side ahead of England in the friendly match.
The Galatsasaray forward still has a valid contract with the Turkey side until 30th of June, 2018. He continues to contribute greatly to the success of the team as his team ended the 2017 campaign being the 4th on the Super League table which saw them to the next UEL.